By Rosa Faccaro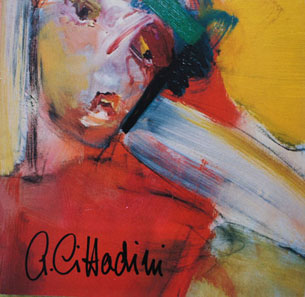 The artistic inscription of Alicia Delia Cittadini belongs to the generation of the 1970's, whose pictorial traits come from two cultural territories – in this case – the Argentinean and the Italian…

... In this peripheral territory of Latin America, where there is a clear desire for artistry and new aesthetics to fundament it, a certain plastic oeuvre surfaces against the mainstream, that is, in spite of it... The generation Alicia Delia Cittadini belongs to knows that artistic expression is a means to make one's voice be heard and thus remain in a vigilant attitude. This is no silence. It's a constant brush stroke in movement, always telling a story. If we had to inscribe the work of this artist, we'd have to do it within the tradition of our drawers – painters such as Carlos Alonso, Julio A. Martínez Howard, Roberto González, Santiago Cogorno, that utopian generation of the 1970's, with the silent pain of the 1970's and the truth of the permanent exile within its own country…

Argentinean painting culture comes from a linguistic crossbreeding. The immigrants' movements have left their mark on Argentinean painting. Until the 1970's, artists sought in Europe a position to work and be in contact with an environment favorable for their creations. Today history is written in a different way, and the above balance takes place alternatively. This land in the South Cone has its loves and emotional fragility and the doors always open for all the people who want to settle on its soil. From this reality springs the "Borgean cosmopolitism", we're children of a cosmopolis. The painting of Alicia Delia Cittadini is built upon this cultural crossbreeding.

I believe her language is a clear point of reference of end of the century expressionism, where informal movement is capitalized, reaching a new figuration as a result of this fusion.

Buenos Aires, April 28 of 1997. .Rosa Faccaro. Member of the Argentinean and International Association of Art Critics.