Raul Santana September 2009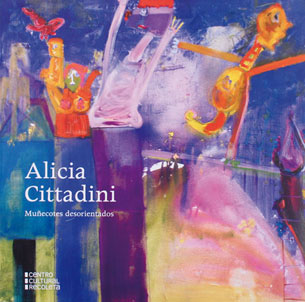 Traversed by large number of gestures, signs and accumulations, Alicia Cittadini's works, far from any descriptiveness, hold us spellbound in a world of hallucinatory visions that show an imponderable conjunction of outside and inside where, if sometimes a fragment leads us to reality, the constant feature is that it involves us in the contrasted violence of the splendor of her inks.
Devoted to the adventure that shapes her direct material, in a changing, attentive and intense dialogue, the artist plays with sketches that make and break her anthropomorphic referents as if despite the obvious urgency they were expressed with, something had vanished in the transmission, which is also the power of her subjectivity.
Her erupting images are reminiscent at times of the equivocal paintings of children or madmen: they seem to be mocking the appearance of the world and the rational organization of space to propose an oscillating ambiguity between figurative and abstract. In this sense, it is not by chance that the formation of the artist has begun in the fruitful 60's in our circle, where the neo-figuration as a dominant aesthetics knew how to express the discontinuity of experience as opposed to the continuity, as seen in the work of the artist.
Moreover, Cittadini with her wild iconography expresses a contemporary condition: the vertiginous time lurks with its infinite changing images, cracking the bygone notion of unity to propose a deep questioning of both the object and the subject. That is why her paintings, closer to a shout rather than to language, are a receptacle where a transition is articulated, a transition expressed by the violent imprint of the artist who, with her dynamism, makes it impossible to establish any reference or story, to immerse the viewer in chaotic images that become conducive to deliver a key core of our present.