By Ilario Luperini - Director of the Art Institute of Pisa, Italy - Il Grande Vetro. 1997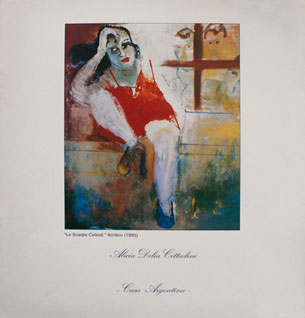 The original contribution of Alicia Cittadini is essentially in the creative function of color: be it with violent chromatic contrasts, be it with the intensity of tone vibrations. Alicia Cittadini creates deep colors with strong emotional thickness, but also wisely constructed, never abandoned to the fugacity of the moment. Colors that are at the same time the search for harmony and contrasts, some kind of unforeseen explosion of the palette. Followed by an immediate control of the results.

The human figure, even in portraits, functions as a counterpoint: the true protagonist is color. A color that crates spaces, determines profundity, a color inviting us all, almost pushing us to dive into it. The color becomes substance from which life flows: the line itself that sometimes constructs the shape is not so much a container but an arsenal of boundaries amidst pictorial terms. The inquiry on chromatic relationships is what determines the cut of images, never casual and left to the instincts. On the contrary: calibrated, carefully measured.

The painting of Alicia Cittadini appears as though constructed through a quick following of visive emotions, dictated by some kind of inner eye. Her painting, rather than a willful act of intervening into reality, is an instrument of observation, of emotional registering of the continuous flowing between external reality and inner world.